Greeting
I express my sincere thanks for coming to Daido University Daido High School Web Page.
Daido High School was established in 1939 as a technical school by Mr. Yoshio Simoide, the president of Daido Steel Company. Since the establishment, more than 34,000 students have graduated our school.
They are now making important contributions not only in business but also in regional community all around our country.
Nowadays, the world is changing rapidly and has various difficult problems. Even though the value of people's sense shows diversities, we will keep educating the essential meanings of life and society, that is basical academic ability, human dignity, social morality, sense of justice, responsibility and so on through the ordinary lesson and sports activities.
Let's join us.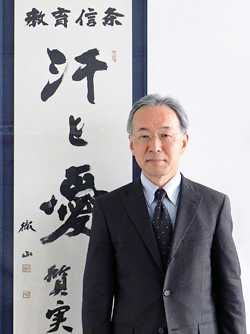 大同大学大同高等学校
校長
服部 保孝